I notice the title isn't in ALL CAPS.
I guess chasing monsters who turn out to be Old Man Jenkins isn't paying the bills? Tell Scooby I said, "Zoinks." Or are you the "Angel"/"It Wasn't Me" Shaggy?
I never watched VR Troopers until just recently. I might have seen a tiny bit of Superhuman Samurai Cyber Squad, but don't quote me on that. Wasn't that the one with the son from Mrs. Doubtfire? Matthew Lawrence? Anyway, I was more of a Power Rangers, Masked Rider, and Beetleborgs guy.
Let's dig in. Trooper Transform!
V.R. Troopers had a character named Chris, but he was some bullied kid. Here, Chris Star is Kaitlyn's father. Also, you made Kaitlyn black instead of a blonde chick.
By the way, is Chris supposed to be a
Zordon
Professor Hart easter egg?
Quoted Text
Chris is more focused on keeping a lookout for his daughter KAITLIN STAR (14)[,] walking into the kitchen[,] than he is to the voice on the other end of the phone.
CONT'D is almost never necessary.
I'm sure karate's gonna come in handy.
Quoted Text
shake his head 'no'
Redundant. If you shake your head, it's understood to be no. If you nod your head, it's understood to be yes. You can't nod you head no or shake your head yes. It's like when people say they COULD care less.
Why not just call SUBURBAN HOME "STAR RESIDENCE"? Especially since she's a main character.
Quoted Text
The room is an all-in-white design of a mad scientist[']s lab...of the future.
Quoted Text
Assume the futuristic t Hong to be a common denominator throughout everything in 'Skybase'.
Hong? Who's Hong? Or are you referring to "a commercial establishment or house of foreign trade in China"? What does this sentence even mean?
Quoted Text
It's nearly empty aside from the wall[-]to[-]wall computers.
Quoted Text
JB REESE (14), the computer nerd, and RYAN STEELE (14), the confident karate jock, even though that hasn't been a thing since the 1980's, are both metal-clad warriors as well, standing in the center of the room, friends of Kaitlin's obviously.

[ ]

They all exchange playful shoves while laughing as Kaitlin makes her way to the wall-sized computer monitor.
Very long winded paragraph! Too much going on in one paragraph. Break it up into two paragraphs.
Almost never necessary these days. Every scene is understood to be "CUT TO:".
Nope. DAY or NIGHT. Rarely DUSK or DAWN. Never SUNSET. Pick one.
Quoted Text
The bustling city is neon and glowing as the sun sets. Flying cars, holographic advertisements, androids and vibrant[-]skinned aliens.
Quoted Text
In Kaitlin's display[,] view a small square infrared patch analyzer bounces around the screen at short intervals.
You're having a few comma issues.
Skugs, by the way, are those ugly Putty-looking things.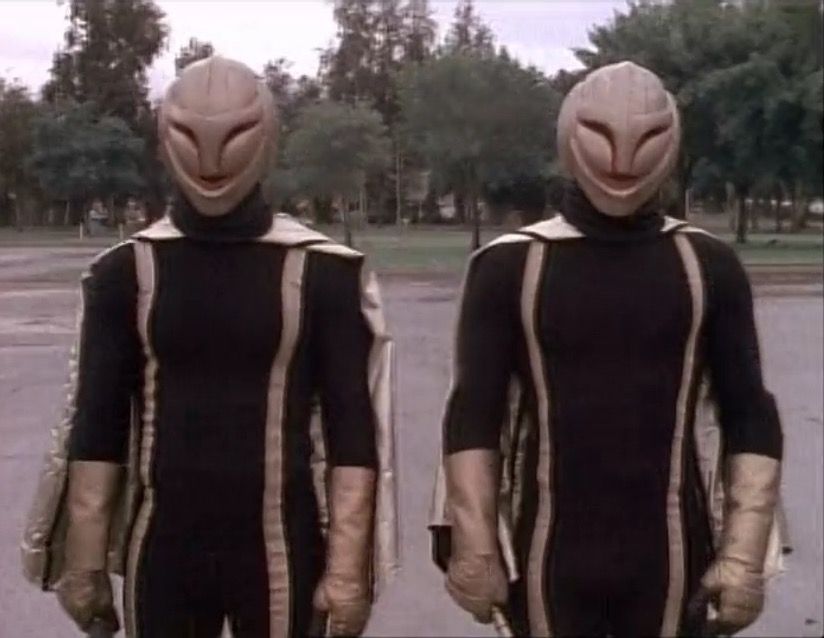 Quoted Text
Oh yeah! Skugs hiding in the buildings, gon' be a good one[,] boys.
Always offset with commas.
Define "pathetic." Sad? Stupid? Sorry? Poor? Mediocre? Low-budget? Cheap? Lousy? Depressed/depressing? Neutral?
I like how to divided the scene into little "fight shots." Nice and clean.
Quoted Text
-JB is in an expensive looking building lobby giving a Skug a noogie to the point where it's robotic head explodes.
WTF? I gotta see this!

"Cheesy." I like it. Grin and bear it. Embrace the cheese. I think I know who wrote this.
Quoted Text
There is a knock at the door. It's a gentle knock. Kaitlin rips off the headset and dives into her bed. The door is cracked open just enough for Chris to fit his head in.
Damn, that was quick! Quicker than the ten-second sex in Halloween.
Quoted Text
(cupping his hands around his mouth as he yells)
Too long to be a parenthetical. Plus, it's pushes the dialogue to the top of the next page (the only time one should ever use MORE and cont'd in a spec). Change it to an action line instead.
Quoted Text
Hello, JB[. H]ello, Ryan[. Y]ou boys should really get some sleep, like Kaitlin is.
Quoted Text
Kaitlin hops out of bed to turn the computer off before her Dad can be any[ ]more embarrassing.
https://writingexplained.org/anymore-vs-any-more-difference
Quoted Text
Without any more effort[,] footsteps can be heard walking away from the door and down the hall.
This is the last time I'm gonna point out commas. You have a lot of them to take care of.
You changed
Zordon
Professor Hart into a teacher... and several years younger. Refreshing.
Quoted Text
If I'm going to the office anyways, can't I at least get some sleep first[?]
Might be perceived as a genuine question, rather than rhetorical.
Quoted Text
INT. CLASSROOM - END OF CLASS - CONTINUOUS - DAY
CONTINUOUS is almost never necessary. END OF CLASS is certainly not necessary. Just tell us Kaitlyn and Mr. Hart are alone in the classroom. That's all you need to tell us.
Quoted Text
Kaitlin gave [gives] the fakest, widest smile she could muster before standing up.
I thought I could guess who wrote this, because he relishes B-movies and such. But he would certainly have a better grasp on grammar and punctuation.
In dialogue, spell out abbreviations. Why is there a space before the period?
Quoted Text
School policy also says standardized tests should determine a student[']s future.
Craig and Duncan appear to be new characters. Jim, too. How old is Jim, anyway?
Did Kaitlyn turn into Chuck Norris? Ha ha!
Quoted Text
INT[.] KAITLIN'S HOME - LIVING ROOM - NIGHT
Quoted Text
Chris is sitting on the couch with Kaitlin. They sit at opposite ends of the couch, and Kaitlin is squeezing herself into the corner, as far away from her dad as possible.
I know how Kaitlyn feels.
Quoted Text
What the hell, Kaitlin?
Our first sign that this is a more grown-up VR Troopers.
Quoted Text
-Of coarse [course] they did, but this is the real world, Kaitlin. You can't go around beating up bad guys.
Coarse = Rough, crude, vulgar.
"two[-]week vacation"
"out[-]punch"
Why not use proper headphones? The hi-fi experience? Especially for the musical selections you've chosen?
Never heard of Royal Blood. Cold hard bitch! Just a kiss on the lips, and I was on my knees!
"Surplexes." Also, Surplex is a proper noun anbd must be capitalized.
Quoted Text
She literally shoves other players to ground, what a jerk.
Quoted Text
She turns back around and doubles her speed. JB and Ryan don't follow anymore[;] they let Kaitlin get lost in the thick crowd.
You seemed to imply that Kaitlyn's parents were divorced. And now, you're throwing in puberty and suggestive humor? They grow up so fast.
Quoted Text
Kaitlin stands to
Huh?
Quoted Text
I'm serious, I'm about to go crazy on you.
Cra-aaazy on you! Cray-ay-yaaaaaazy on yoooouuuu! Let me go crazy, crazy on youuuuuuuuu, ohhhhhh, ohhhhhhh.

Usually dialogue is for SPOKEN dialogue. And Italics are usually forbidden.
Quoted Text
real scary motherf--
Shut yo mouth!
*Shaft wah guitar riff*

"Way out of [extra space] view."
"Kaitlyn's hand glow..." I'd break this up into three or four paragraphs.
Quoted Text
I swear I could feel it in real life.
Freddy-ish. I like it.
Wow. Technical-wise, needs some work. Story-wise, great. I picture the virtual world being blue a la The Matrix's green.
When I watched the pilot, I pictured Ziktor (whom you didn't use) as a Trump/Koopa type.
Solid entry, story-wise. Just a little cleanup, and it'll be perfect.